Easy Timesheets for QuickBooks
Ready for Your Office
Get Started in Minutes!
Senomix gives you an easy QuickBooks time tracker
your staff can start using now.
A few button clicks will import your QuickBooks details.
A guided tutorial will show you each step.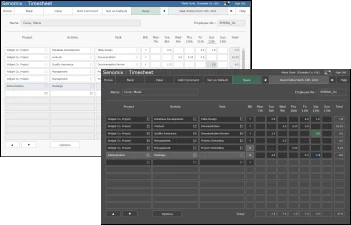 Windows, Mac and Mobile
Use Senomix from your desktops, laptops,
tablets and phones.
Employees can enter hours and comments as they work, or track time with an automatic stopwatch.
Installs to Your Taskbar
You can run Senomix alongside Microsoft Office, or use your time tracker as a traditional web app.
Progressive Web App (PWA) technology lets you add Senomix to your desktop in less time than it took to read this sentence.
See for yourself:
Approved by the Windows App Store
Deploy an easy time tracker to staff computers
with a timesheet app trusted by Microsoft.
You can start right now
No Credit Card Needed
...you and your company are so customer friendly and make everything easy to do! Thanks so much!
L. Alexander
David Lipinski CPA
Arizona, United States
Senomix Software Inc.
761 Bay Street, Suite 3202
Toronto, Ontario
Canada, M5G 2R2
(416) 803-9705



© 2003-2022
Senomix Software Inc.
All Rights Reserved

Intuit and QuickBooks are registered trademarks of Intuit Inc. Used with permission.
Member of the Intuit Developer Program.