Simplify Project Reporting
Stop Emailing Excel Timesheets
Time and expense tracking doesn't end with an emailed time sheet or expense claim.
Days of time can be wasted every month with the entry and re-entry of employee-submitted numbers to create reports, highlight points of concern, and sum numbers for client billing, payroll entry, and employee reimbursement.
You can re-direct that administrative effort to more productive tasks with the use of Senomix's easy online timesheet.
Easy Employee Time Tracking
Senomix provides an easy time tracking system ready to use from your office's Windows and Mac computers or from your Android, iPad, iPhone or other mobile devices.
Whether your staff are located in the same building, connecting in from the internet, or linking with a phone or tablet, Senomix's fast web time entry screen, expense recording, and automatic stopwatch provide an easy way to capture your office's time and expenses.
Easy Project Tracking Reports
Senomix simplifies the management of your office's time tracking and expense data by turning raw numbers into information you can use.
From tracking project progress through to generating hour summaries for payroll and billing, Senomix allows you to quickly turn your recorded staff effort into actionable information.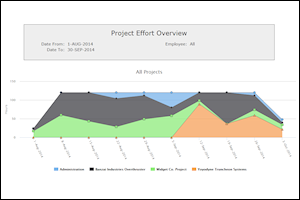 Visualize your office's effort hours with interactive pie charts, or examine your staff work history through a time series review.
With reports providing exact numbers for your effort and billing, and charts delivering an instant understanding of that information, your time and expense details can become a resource ready to assist your office's project planning and decision making.
I would be delighted to recommend Senomix.
We would struggle to operate without it now.
R. Uttley
Schwartz LLC
Barnsley, United Kingdom
See Who's Doing What
Senomix employee effort reports provide an instant overview of your office's activity, showing snapshots of project work by employee or by the tasks with which they are engaged.
Whether used for billing, HR employee reviews, or to check project status, your Senomix reports allow you to keep track of the activity your office is engaged in without the need for face-to-face status updates.
Track Estimates and Project Progress
With estimate tracking provided for managers and employees alike, time estimates can be entered down to the level of individual tasks, allowing your project managers to validate their estimate calculations against numbers entered by their staff.
As your projects progress, estimates vs. actuals can be easily checked to spot project bottlenecks and identify potential overages for fixed-price contracts before they become a hit to your profits.
Create Reports in Microsoft Excel
Slice and dice your data with defined groups of projects and employees allowing you to categorize your work by client, work type or any other segmentation you would prefer.
Curious about how one project's work stacks up against others? You can review activities and tasks across projects to see how their effort compares.
Wondering if analysis work is taking more time than usual for a particular client? Find out in moments with a filtered work in progress report.
With all reports available for review directly in Microsoft Excel, you can perform your work analysis in your familiar spreadsheet environment and crunch your numbers with the tools you already know.
With Senomix, now we can keep track of project costing much easier than previously which makes it very valuable for us, both from a project efficiency standpoint and estimating on new projects.
P. Schonning
Polyhistor International, Inc.
Florida, United States
Trim Down Your Status Meetings
With 5,000 characters of descriptive text available for every timesheet entry, staff can provide detailed comments for their work to point out issues of concern as they happen, rather than leaving them until your next face-to-face meeting.
Project schedules and work estimates can be quickly verified with your Senomix reports, allowing you to remain up-to-date with the activities of your staff without requiring an interruption to an employee's billable work.
Informed Managers, Informed Staff
With personal and managerial reports available for your office's use, managers can quickly gain an overview of the work performed by staff in their assigned scope of responsibility. Employees can also be granted access to examine their own recorded time tracking history to assist in work estimate calculation, identify possible areas for improvement, or even to check on their vacation time taken to date.
Turn your effort hour data into actionable information the moment you need it for review.
Financial Numbers When You Need Them
Working fixed price? Use your Senomix reports to confirm your office is on a profitable track.
Billing for time and materials? Check your billable hours to see where staff effort could be better directed.
Review your billings, create your invoices, and track revenue and expenses by project, employee, client or work team. When you have a question about your office's time and expenses, your Senomix system can provide the answer.
Work Expenses, Simplified
With employee expense claims available with the simplicity of a timesheet, your expenses can be reviewed and examined by project, client, vendor or expense type.
Compare billable and non-billable items as they're purchased, and spot previously hidden project costs before they become a surprise.
Easy Mobile and Desktop Web Apps
With time and expense tracking available for Windows and Mac OS X, time can also be tracked from your staff iPad, Android, iPhone or other mobile devices.
Record your work right from your web browser, wherever your work takes you. All data is automatically synchronized on your Senomix system the moment you click 'save' on your device.
Ready To Use With QuickBooks
Senomix is also ready to work with your office's accounting package.
With direct exports available for QuickBooks and Microsoft Excel, it's easy to use your time and expense data for client billing.
Your Senomix reports can also be used to create a text file export transferrable to any database, providing a ready front-end for your existing payroll process.
Easy Timesheet Templates
Timesheet templates can be created to manage the tasks set for your project work, and distinct activity lists can be used to track one-off bespoke contracts.
Employees can also create their own time card template to pre-fill their timesheets and streamline their effort recording and review week to week.
Cloud Hosted or Self-Installed
If the data retention and privacy policies for your business require project information to be kept in-house, a self-installed system will allow you to place your Senomix server and time and expense tracking database on your own office network.
Both the cloud-hosted and self-installed systems have the same all-inclusive pricing and priority support.
Start Tracking Time Today
30-Day Free Trial
No Credit Card Needed
Signing up for a Senomix trial only takes a minute
and lets your office immediately start adding projects
and tracking time.
Senomix Software Inc.
761 Bay Street, Suite 3202
Toronto, Ontario
Canada, M5G 2R2
(416) 803-9705



© 2003-2022
Senomix Software Inc.
All Rights Reserved

Intuit and QuickBooks are registered trademarks of Intuit Inc. Used with permission.
Member of the Intuit Developer Program.