3.1 - Timesheet Screen
Your mobile app's timesheet behaves much like the screen used in your desktop system and we'll only provide an overview of that functionality here. For a detailed description of the options available for your timesheet, please see the tutorial and help pages provided with your desktop apps.
A timesheet opened from the Timesheet button on your main menu will always bring you to your current week's timesheet:
To view a timesheet for a past or future week you can click the toolbar arrow buttons to change your week of focus, or open the Timesheet Listing screen to review all of your records.
To view days of the week scrolled off-screen, just swipe your iPad, iPhone or Android device's screen to the left or right as appropriate to shift your field of view.
Billing Code Selection
To select a project, activity or task for your timesheet, tap one of the selector fields at the left-hand side of your timesheet row. The selector for project, activity or task will be opened as appropriate for your choice.
For example, if the task field of the project/activity/task selector on the third timesheet row shown above was tapped, the selector screen would be opened to allow you to change your selected task:
The currently selected project, activity and task are shown at the top of your screen, with the available options displayed in the table below.
To select the project, activity and task displayed for your choice and set it for your current timesheet's row, tap the green Select button. To cancel any change of selection, click the Cancel toolbar button.
To select a different project, activity or task, just tap the row of interest to you and hold it for a moment.
After selecting an item, your timesheet row will be updated to reflect your choice. For example, if the "System Documentation" task was chosen for row of the timesheet selected above, the row would be updated as follows: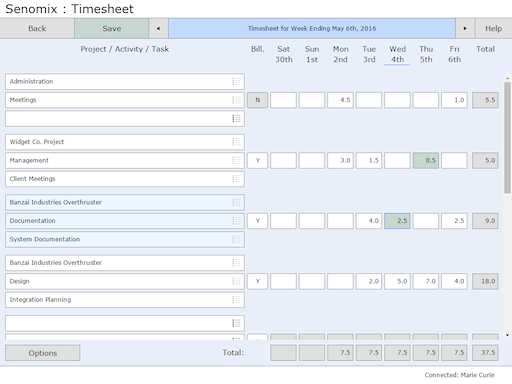 As with the desktop version of Senomix Timesheets, you can set your timesheet rows to have a project, activity or task level of precision for your selection, with the "None" option allowing you to indicate a blank selection for your choice. For example, on the first timesheet row shown above, only a project and activity have been chosen to reflect the non-billable work for Meetings.
Hours Entry
To enter an hours value in your timesheet, just tap the hours field of interest to you and enter the number of hours you wish to record. By default, a decimal will automatically be added after the first number you have typed, so the value "3.5" can be entered by simply typing the numbers "3" and "5" on your keyboard.
If you would prefer to type the decimal yourself when entering your hours, the automatic decimal option can be disabled in your Settings screen.
Saving a Timesheet
To save your timesheet, tap the green "Save" button on your screen's toolbar. Once your record has been saved, a confirming checkmark will be shown:
You can dismiss that checkmark and continue your work by tapping your screen.
Timesheet Options
The Options button at the bottom-left corner of your timesheet screen provides access to the other options available in your desktop apps. For example, if tapping that button on an editable timesheet, you would be presented with this menu:
Similarly, tapping the Options button from a read-only timesheet would provide you with the options made available in your desktop app's read-only timesheet screen: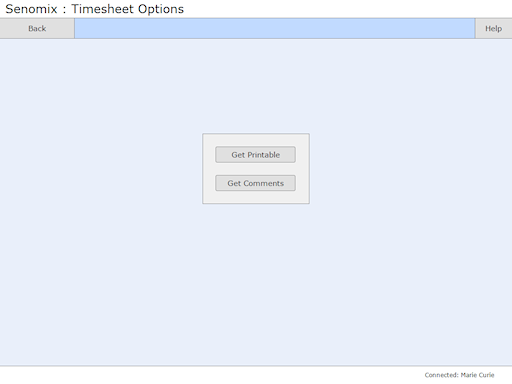 The Clear, Mark As Complete, Round Hours, Move Row Up and Move Row Down buttons provide the same functionality as your desktop apps to clear your screen, submit your timesheet for approval, round timesheet hours to the nearest 5, 10, 15 or 30 minutes (as set by your system administrator), and to move your selected timesheet row up or down in the timesheet grid. The functionality provided by the other buttons in this menu are described below.
Adding a Timesheet Comment
To attach a text comment to any effort hours entry, tap the "Add Comment" button from your timesheet options. A comment entry screen will then be displayed corresponding to the timesheet hours field you last tapped:
As with your desktop system, you can attach up to 5,000 characters of comment text to each of your timesheet hours entries and can also use the voice notes option of your iPad, iPhone or Android device to dictate your comment.
To attach an entered comment to your timesheet, tap the green "Ok" button. As with your desktop system, the hours entry field will then be shaded a light green colour to indicate that a comment has been added to those hours.
You can view your entered comment by either setting focus to the hours field of interest and opening your edit comment screen or by creating a "Timesheet Comments" report (as described below).
Setting Timesheet Defaults
To save a default template for your timesheet (so, record your timesheet row selected projects, activities, tasks and billable / non-billable states), tap the "Set Default" button from your timesheet options. A confirmation checkmark will be shown to inform you that your defaults have been set to reflect the displayed timesheet:
As with your desktop system, your defaults will then be pre-populated the next time you open a new timesheet for your work week.
To clear your defaults, just clear your timesheet (by tapping the "Clear" button from your timesheet options) and set the default timesheet again for that cleared screen by tapping the "Set Default" button.
Creating a Printable Timesheet
To create a print-ready timesheet, tap the "Get Printable" button on your read-only timesheet options menu:
Printable Timesheet Comments
As with the printable timesheet, you can create a timesheet comments report by tapping the "Get Comments" button on your read-only timesheet options: