3.5.2 - Printing Timesheet Comments
If you would like to review your entered timesheet comments in a printable report, you can do so at any time by clicking the "Get Comments" toolbar button on your timesheet detail screen.
Once the "Get Printable" button has been clicked, a formatted report will be created and opened in your report viewer or in Microsoft Excel as fits your report settings. You can change your preference for how reports are created in your application through your Settings screen.
A web page version of your printable timesheet comments would be shown in your report viewer and can be printed from that screen or be saved to a stand-alone web page: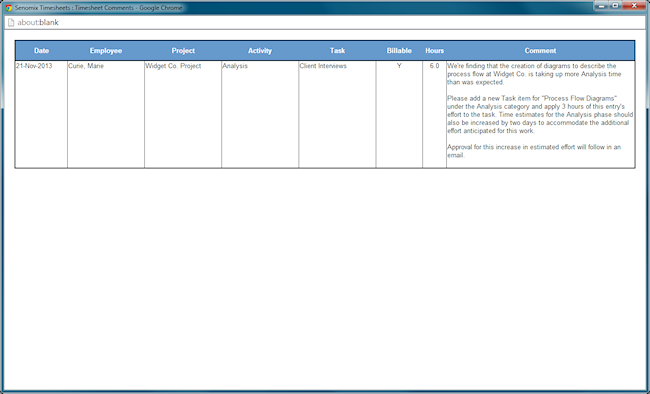 Microsoft Excel Reports
If your report preferences are set to create your reports in Microsoft Excel, you will be prompted to save or open your report once it has been created. If you choose to open your report, Excel will be automatically opened for you and display this confirmation message:
That confirmation message must be acknowledged before your computer will allow the opening of Excel for your report. After confirming the message by clicking "Yes", your printable timesheet comments will be opened as a formatted Microsoft Excel document: