6.0 - Adding Projects to Senomix
Now that we've reviewed the structure of projects in your Senomix system, we're now ready to create a project record for your own use. Your Project Administration screen can be reached from your system's Main Menu by clicking the "Project Admin" button:
As part of your Senomix trial, you will already see four example project records present:
The Administration, Banzai, Widget, and Yoyodyne projects have been provided as an example of how your records can be structured, and have been used in the sample timesheets included with your system. The Administration and Widget Co. projects are both stand-alone projects with activity and task lists of their own, whereas the Banzai and Yoyodyne projects use a shared project template (named System Development).
Just as you created new user accounts, you can also create a project record of your own by clicking the "New" toolbar button to prepare your screen for a new record and then entering data in the appropriate fields. After clicking the "Save" button, you will see your new project record displayed in the screen's lower table window, like this example of "My Project":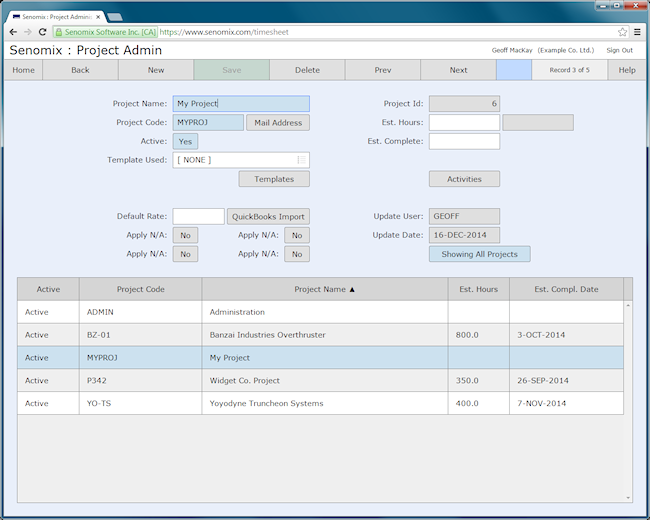 The project, activity and task codes of each record can store a unique identifier used by your office for tracking your work. For example, a project number assigned by your office could be entered for each project record's project code. If a project, activity or task code is not required by your office, you can enter a number, letter or abbreviation for the work as you would like.
Each of the project, activity and task administration screens can be set to order the records displayed in your screen's table window either by the record's project/activity/task code or by the record's name, with the ordering of choice indicated by an upward-pointing arrow in the column header. To change whether records are listed in project/activity/task code or name-order, just click the column header in your screen's table window.
After selecting a project of interest from the lower table window, activities for stand-alone projects can be reached by clicking the "Activities" button, with the activities for template-using projects reached through the "Templates" button.
For example, since the "Widget Co. Project" was created as a stand-alone project (instead of using a project template, as with the Banzai and Yoyodyne example projects), clicking the "Activities button will show all activities associated with that project:
Similarly, you can select any activity record and see its associated tasks by clicking the "Tasks" button on your activities screen.
Importing Project Data
Projects, activities and tasks can also be imported from your QuickBooks accounting package, or from an import file generated by your office's database system. Instructions for performing a data import can be found in your Administration Application Users Guide.