1.0 - Introduction to Senomix Administration
The desktop web application for Senomix Timesheets can be used with your Windows or Mac desktop and laptop computers through any modern web browser (so, updated Google Chrome, Firefox or Internet Explorer 10 and later).
For simplicity in this guide, all screens will be shown using the Google Chrome web browser, which is the web browser we recommend for the best performance while working with your Senomix account. If you do not yet have Google Chrome, you can download that browser for your own computer at no cost from Google Chrome's web site.
System screens will be automatically sized to fit the available space on your computer monitor, with a scrollbar appearing on your browser if there is not enough space available to display all information.
For example, a timesheet would appear as follows on a laptop computer monitor with 1280x800 pixels resolution:
And would appear as follows for a desktop computer monitor of 1280x1024 pixels resolution:
As shown, if space is available, additional lines of information will be displayed to fit the screen space available to you. Your computer's screen size does not limit the amount of information you can enter in your Senomix timesheet or expense claim records, and additional lines can be scrolled to off-screen if your computer monitor is too small to display all information at once.
Whenever Senomix Timesheets needs for you to wait while it communicates with your server, your screen will display a grey shade with an animated wait spinner displayed in the middle, as with this system login: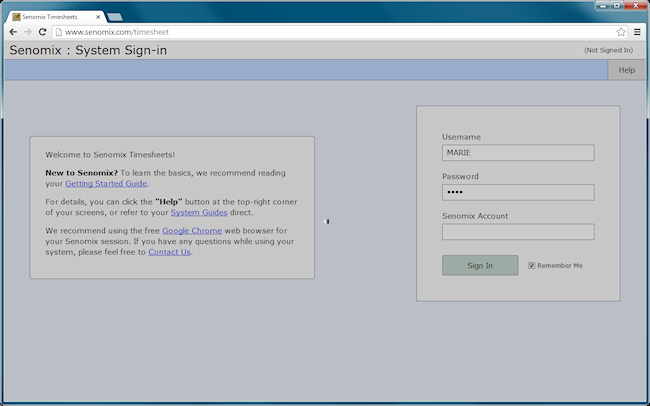 Similarly, when your application has completed a save action for your timesheet or expense claim information, it will inform you of the save success with a checkmark information message displayed in the center of your screen:
To dismiss a confirmation checkmark, just click anywhere outside the checkmark box on your computer screen.
To provide an efficient workflow, most of your administration screens will not display a 'saved' checkmark when saving your project, activity, task or other administrative information. After data has been saved on your system, your green toolbar 'Save' button will return to a disabled state to indicate that no changes are waiting to be saved.